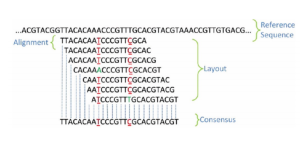 The "Programa de Pós-Graduação em Fitopatologia", as part of the dual degree agreement with the Department of Plant Pathology of the University of Kentucky, will be hosting a workshop covering the acquisition and bioinformatic analysis of Next Generation Sequencing (NGS) data.
Workshop goals
To provide participants with an understanding of the technical aspects of data acquisition, and an introduction to the use of common (and open source) tools for data analysis (genomic, RNAseq and metagenomic data sets). No prior experience or background in NGS is required.
Basic requirements
Basic skills in English (conversation and understanding). The workshop will be in English.

Applicant's research/knowledge in bioinformatics, but beyond editing and alignment of sequences and phylogenetic analysis (see activities below).

Familiarity with command-line interfaces (Unix, Linux).

Notebook computer with at least 4Gb RAM, desirable 8Gb.
Who are encouraged to apply?
Graduate students,  postdocs and faculty members of the University

Preference will be given to (as long as the requirements are met):

Graduate students members of GEAFIP

PNPD postdoc researchers of the PPG Fitopatologia
Organizers
Prof. Mark Farman, Dept of Plant Pathology, University of Kentucky
Prof. Eduardo Mizubuti, Depto de Fitopatologia, Universidade Federal de Viçosa
How to apply?
Send an email to mizubuti@ufv.br introducing yourself and justifying your application. Deadline:  October 23rd
Workshop details
Workshop Fee: R$200,00.
Load: Approximately 30 hours.
Schedule:
| | | | | | | |
| --- | --- | --- | --- | --- | --- | --- |
| 25/10Thursday | 26/10Friday | 27/10Saturday | 28/10Sunday | 29/10Monday | 30/10Tuesday | 31/10Wednesday |
| Full day | Homework | Morning | Homework | Full day | Full day | Morning |
Bioinformatics activities
Linux essentials

File formats and quality assessment:  FastQC, Trimmomatic

Sequence assembly: Velvet, Discovar de novo

Sequence search and alignment: Blast, Samtools, Tophat2

Transcript assembly and quantification: Cufflinks, Cuffmerge, Cuffdiff

Variant

detection: Samtools mpileup

Gene finding: Augustus, SNAP and MAKER

Data visualization:  Integrated Genome Viewer

Metagenomics: QIIME